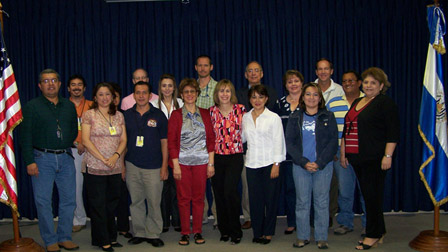 Susan's passion is to see the world through other people's eyes and tap into their knowledge and expertise. This interest began when she studied anthropology and agriculture in college to prepare for a career in international development. She felt that it was crucial to understand people's cultures and values, and discover how they would solve their own problems. Since then, she has continued to bring that passion to her diverse work in leadership development, microenterprise for women, teambuilding, strategic planning, negotiation, mediation and global health projects. She founded Dialogue for Solutions in 1989. 
Take a moment to see Susan discussing how to resolve conflict in a presentation to the Appreciative Inquiry Learning Community in Washington, DC
Results
Flexibility
Responsiveness
Reliability
Results
Susan's clients have said they've made progress as a result of working with her. At the retreats she facilitates, participants develop concrete action plans and commit to implementing them and hold each other accountable.
Flexibility
Responsiveness
Reliability
Received Faculty Excellence Award from Graduate School USA
Interviewed about international conflict resolution on Voice of America call-in TV show that reaches 85 million people worldwide 
US Agency for International Development: Facilitated implementation of health care road map in the Democratic Republic of Congo
National Public Radio: Wrote guidebook on diversity in the workplace to help attract, hire, and retain a diverse workforce
United Nations Management Development Centre: Presented workshops on leadership and negotiation skills, and coached participants worldwide 
Association for Conflict Resolution, Washington, DC, chapter: Delivered presentation on "Resolving Conflict across Cultures" at annual conference
US Courts for the Ninth Circuit: Presented session on conflict management for conference in Las Vegas
Facilitated retreats for Institute of International Education Hubert H. Humphrey Fellowship Program focused on strategic planning and communication
Academic Experience and Professional Certifications
American University – As adjunct professor, taught course on negotiation, teambuilding, and diversity
University of Virginia – Designed facilitation training for students and faculty on issues of race, age, ability, culture, gender, and violence
University of Maryland James MacGregor Burns Academy of Leadership and – Taught leadership communication
Johns Hopkins University – Guest lecturer for course on conflict resolution
MA – International Affairs, The George Washington University

BS – Agriculture and Anthropology – University of Florida (transferred from Tufts University)
International Coach Federation (ICF) certification – Associate Certified Coach (ACC)
Coaching Certification – Coach University 
Mediation Certification – Supreme Court of Virginia Department of Dispute Resolution
Virtual Instructional Learning Technology Program (VILT) certification – InSync
Myers-Briggs Type Indicator (MBTI®) certification – Otto Kroeger Associates
Design Thinking Seminar – Stanford University Design Lab and International Society for Performance Improvement